MAJOR CARDINAL AND GROUP OF BISHOPS APPROVE DRAMATIC MESSAGES FROM MYSTIC IN HUNGARY WHO SPOKE ABOUT THE WAR AGAINST SATAN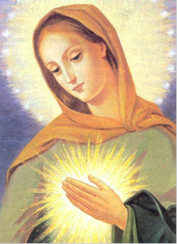 Apparitions to Elizabeth Kindelmann of Budapest have the backing of Cardinal Péter Erdö, the primate of Hungary and president of the Council of Episcopal Conference in Europe, and at least six Latin American bishops. Now known as the Flame of Love of the Immaculate Heart of Mary messages, they began three days before the feast of Mount Carmel on July 13, 1960, when Elizabeth had what she described in her diary as "a wonderful spiritual illumination, which lasted three days from morning to night." She was in her fifties when, soon after the "illumination," Jesus and Mary purportedly began to speak to her.
So she states in this diary that received the Cardinal's imprimatur, along with that of her local ordinary, unusually strong approvals from a Church that's famously cautious in accepting such extraordinary claims.
"Renounce yourself, for we have a great mission for you," was the specific call that Elizabeth heard. "You'll only be able to do it if you completely renounce yourself. You are free to choose. You will accomplish it only if you want."
"Take this Flame... It's the Flame of Love of my love," said the Blessed Mother. "Ignite your own heart with it and pass it on to others!"
"This Flame full of blessings springing from my Immaculate Heart and that I am giving you must go from heart to heart," added Mary, allegedly. "It will be the Great Miracle of light blinding Satan. It is the fire of love and concord. I obtained this grace on your behalf from the Eternal Father by virtue of the five Blessed Wounds of my Divine Son."
It was the contention of this Hungarian mystic that the Lord told her whoever fasts on Mondays "with bread and water while referring to the Flame of Love of the Immaculate Heart of Mary delivers the soul of a priest from purgatory. Also, he who follows that prescription will receive the grace, during the octave following of his death, to be delivered from purgatory by My mother."
Born in 1913 to a Protestant father and a Catholic mother, Elizabeth had 12 brothers and sisters, all twins but for her, and she was the only one to reach adulthood. Her life was an incredible struggle through a labyrinth of ill health and poverty, often working as a maid and able to afford but one meal a day.
It was in middle age that she became a seer and mystic (for there also seemed to be stigmata), and her messages often focus on devotion and fighting the devil. When a person attends a Holy Mass that is not part of the formal obligation, she was told by Mary, that person "radiates to such a degree that, during that time, Satan is blinded and the plenitude of my graces is transmitted to the soul for which you offer the Holy Mass."
These and other messages, as well as the approvals and a short background are included in booklets dispensed by The Flame of Love of the Immaculate Heart of Mary (www.flameoflove.org). Quietly, that mission has now led to a Flame of Love movement that has spread through several countries in Latin America, the United States, Canada, Europe, Africa and Asia as a non-profit organization seeking the "salvation of souls," in the words of Father Gabriel Róna, S.J., who has devoted his energies to the translation of Elizabeth's documents.
Among other of the messages: During Adoration, Elizabeth once said that she was told if there is a spirit of atonement during that visit to the Blessed Sacrament, the devil loses his power for as long as that Adoration lasts.
The Blessed Mother also allegedly requested vigils for souls in purgatory and said that every time three Hail Mary's are recited in her honor by calling upon the Flame of Love, a soul is released from purgatory. During the month of November, ten souls will be released with only one Hail Mary prayed in honor of Our Lady's Flame of Love.
When priests fast on Mondays, "innumerable souls" are delivered during the Consecration, the Blessed Mother told Elizabeth.
"Timid and passive" clerics, the Lord Jesus allegedly told this seer, must abandon their reserve. "They must not remain idle, nor keep people away from the Flame of Love of the Immaculate Heart of My Mother."
"What is the Flame of Love?" Elizabeth once asked.
"My mother's Flame of Love is for you what Noah's ark was for Noah!"
Added the Virgin: "The Flame of Love of My Immaculate Heart is Jesus Christ Himself."
In addition to Cardinal Erdö, the seer drew the support of a second cardinal, Archbishop Bernardino Echeverría Ruiz, of Guayaquil. The other bishops included prelates from Acapulco, Celaya, Tuxila, Hermosillo, Mexico City, and Durango. After requesting approval of the global Church for the organization based on Flame of Love, Cardinal Ruiz was sent a letter from the Vatican's J. Francis Stafford, president of the Pontifical Council for the laity, encouraging him "to take every measure for the association to give abundant fruits among its members" and inviting him "to continue with the tender task of spiritual accompaniment."
"Jolts" were coming to the earth, Elizabeth said she was told (by the Lord), jolts that will "give rise to a new world by the power of faith." The earth will be renewed, "for never has such a flow of grace ever been given since the Word became Flesh," she said she heard. This renewing of the world will be tested by suffering and take place through the imploring force of the Virgin, the seer added.
"Know that the earth is like nature before a storm," Elizabeth, who died in 1985, says she was told. "It can also be compared to a volcano when it suddenly awakens, smothers, kills, and blinds everyone with the infernal smoke sprouting up and its falling ashes, whose seism destroys everything around. The deadly ashes full of sulfur want to blemish human souls created in the image of God." But the flame of the Blessed Mother is about to ignite, Mary told Elizabeth, blinding Satan and freeing mankind from the "smoking lava" of hatred.
"The elect souls will have to fight the Prince of Darkness," Mary intoned. "It will be a frightening storm -- no, not a storm, but a hurricane devastating everything. He even wants to destroy the faith and confidence of the elect. I will always be beside you in the storm that is now brewing. I am your Mother. I can help you and I want to! You will see everywhere the light of my Flame of Love sprouting out like a flash of lightning illuminating heaven and earth, and with which I will inflame even the dark and languid souls. But what sorrow it is for me to have to watch so many of my children throw themselves in hell!"
There will be persecution and the persecutors, warned Mary, will be the "cowards" who "fear for their well-being, those who know everything better than others." They would attack as Herod once attacked, the Blessed Mother warned.
"My children," Mary concluded, "the Arm of my Divine Son is ready to strike. I can barely hold it back. Help me! If you invoke my Flame of Love, we can save the world together."
Her voice, said Elizabeth, was "full of majesty, power, and firmness" when she spoke of coming events. "I cannot convey with words the inexpressible astonishment and the wonder with which I heard that. After a few minutes of silence, she spoke in quite another tone, her usual and maternal tone of soft tenderness: 'Fear not, have confidence in my power as a mother.'"
Our Lord Jesus Christ also taught Elizabeth a new prayer, and He invited her to propagate it, since He considers it to be a powerful means to blind Satan.
O my Jesus, may our feet journey together,
may our hands gather in unity,
may our hearts beat to the same rhythm,
may our souls be in harmony,
may our thoughts be in unison,
may our ears listen to the silence together,
may our glances melt in one another,
and may our lips beg Our Heavenly Father,
together, to obtain Mercy. Amen

Through the messenger of Her Flame of Love, the Blessed Virgin Mary is asking to make known to the world a new prayer. She said to Elizabeth: "From now on, any time you pray to Me, add the following request:

Mother of God, spread the effect of grace of Thy Flame of Love over all of humanity, now and at the hour of our death. Amen. With this prayer, you will blind Satan."

The Virgin Mary also requests that the Hail Mary be recited as follows:

"Hail Mary, full of Grace, the Lord is with Thee, blessed are Thou among women, and blessed is the fruit of Thy womb, Jesus. Holy Mary, Mother of God, pray for us sinners, spread the effect of grace of Thy Flame of Love over all of humanity, now and at the hour of our death. Amen."
Our Lady also promised:
"When someone does Adoration in a spirit of atonement or pays a visit to the Blessed Sacrament, as long as it lasts, Satan loses his power on the parish souls. Blinded, he ceases to reign on souls."
"If you are in a state of grace and attend a holy Mass which is not an obligation for you, then the Flame of Love of My Heart radiates to such a degree that, during that time, Satan is blinded and the plentitude of my graces is transmitted to the soul for which you
offer the Holy Mass."
"Satan foams with rate and still carries out an even more bitter fight with its usual torments, since he feels the impending coming of his blindness."
On June 6, 2009, Cardinal Peter Erdö gave his Imprimatur number 494-4/2009 to the original Hungarian Spiritual Diary authorizing the publication of the messages given by the Lord Jesus and the Blessed Virgin Mary to Elizabeth Kindelmann.

The preface of the book was written by Cardinal Bernardino Echeverría Ruiz. Several letters of approval and encouragement from different bishops are published at the beginning of the Diary.

The Flame of Love contains a summary of the powerful, Church-approved messages from Jesus and Mary to Hungarian seer/stigmatist Elizabeth Kindelmann, who won approval of a cardinal and many bishops. Here the Lord and Mary speak about Satan, how to blind him, the power of Adoration, the

potency of the Precious Blood, the most efficacious ways to pray, saving souls

in purgatory, the great troubles facing the world, future events, and the

mystery of the Flame of Love of the Immaculate Heart of Mary from an obscure mystic who died in 1985.

(81 page booklet, $3.25 http://www.spiritdaily.com/books.htm )

The complete Spiritual Diary of Elizabeth Kindelmann is available for free download at: http://www.salvemaria.ca/complet/en/
---